Post by nyartgal on May 2, 2022 11:49:16 GMT -5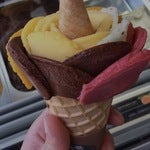 I left and almost immediately fell in love with a penniless jazz pianist from Spain, 11 years younger than me, who was working off the books as a waiter because at the time he didn't have a work visa. Within 18 months we had our first child, and for many years we were broke ass BROKE. We racked up a bunch of debt and it was extremely scary and felt pretty hopeless at many times.
Eventually, he got a good job as a music teacher, we got some help from my family to tide us over, and my art career stabilized despite having two small kids and lots of rollercoasters. I feel now we are finally on the road to paying off the debt and ongoing financial stability. His career is really taking off and now that the kids are a little older, and the worst of Covid is hopefully over, I feel like I can focus on mine more than I have been able to in many years.
Is it easy to be a sculptor/jazz musician couple with two kids in one of the most expensive cities on the planet? Hahaha NO! Would I trade all of the financial anxiety to go back to the relative stability of my SM? Not in a billion years!!
Money is not everything...and I don't think money is holding you back right now. You have a plan and you just need to start executing the final phases. My story here is really for other readers who may not have a plan, or as much earning power, or more debt etc than you do. You can still leave and find happiness!!
Thank you! I think they're lucky too

We always joked when schools were closed that at least they got art, music and foreign languages for free at home. We have a very creative household with impromptu jam sessions, art classes, concerts, singalongs, lots of books and endless silliness and hugs. It's so obvious to me now as a parent how incredibly important it is for kids to see their parents happy and fulfilled, both as individuals and with each other. There is a kind of animal reaction to seeing my husband and I hug—they LOVE IT. They see how hard we work and our dedication to our careers and respect it. I know we can't give them a lot of fancy stuff, or put away hundreds of thousands of dollars for college etc. But they have a lot of love and happiness.